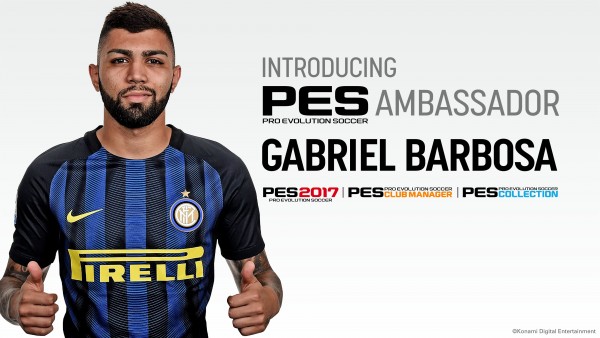 Konami announced Gabriel "Gabigol" Barbosa as an ambassador for PES 2017. This has no influence onto the game itself. It is just important for marketing and sales especially in South America.
" EL SEGUNDO, CALIF. – December 23, 2016 – Konami Digital Entertainment, Inc. announced today that Brazilian professional football player Gabriel "Gabigol" Barbosa is named an official ambassador for PES.
"I'm so impressed with the level of detail and fluidity seen in PES 2017, as there is no other game that fully captures player moves and style as realistically as PES," said Barbosa. "I'm honored that KONAMI has chosen me to be an official ambassador, and I'm excited to join the ranks of others selected to represent this exceptional football franchise."
Known for his style of play and talent, Barbosa has been dubbed the "next Neymar Jr" by fans. He began his senior career at Santos FC in Brazil. In August of this year, he signed with Internazionale where he currently plays as forward.
PES 2017 launched for PlayStation®4, XboxOne™, Windows PC, PlayStation®3 and Xbox 360™ on September 15th, and the myClub mode adds huge depth to the stunning on field action. The mode was introduced in PES 2015 and has proved incredibly popular with the series' many fans. myClub rewards strong match day performances with GP (GamePoints) which can be used to spend on new players to bolster a team. Users can now also purchase myClub coins for use in the game via affordable micro-transactions, and the full currency system is now up and running enabling players to vie for the world's best talent using PES 2017's network of top agents.
PES LEAGUE ROAD TO CARDIFF, the official UEFA Champions League eSports tournament, season 2016/17 is now underway on PlayStation®4 and PlayStation®3 as players can participate via the in-game PES LEAGUE mode within PES 2017 and the free-to-play PES 2017 Trial Edition. Register now on www.pesleague.com.