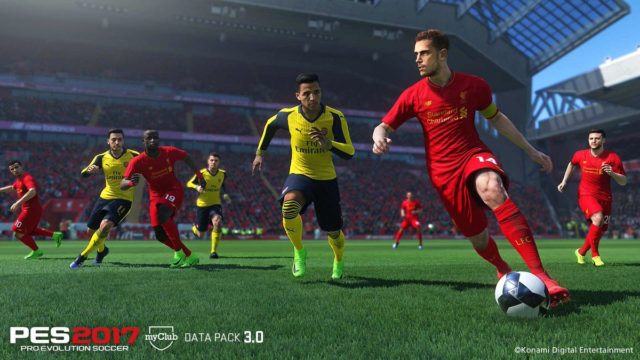 Konami patched some issues with the latest datapack.
The latest patch file is now available as of 09/02/2017.
The contents are as below:
Bug Fixes
<General>
・When kicking a High Pass using R2+○ (RT+B) as the goalkeeper the ball's drop point would sometimes not display.
・When the opponent takes a goal kick, sometimes your team's DMFs were positioned ahead of the opponent's FWs.
・The displayed information on opposition players and their formation, shown when Tight Marking is set in the Advanced Instructions of Game Plan, would not update even though the opponent had changed.
・A black diagonal line was seen in the match window.
・When multiple users are playing in Cup mode or League mode, if certain conditions are met, sometimes playing normally was not possible.
・When playing a VS COM match in the Team Play Lobby, the setting for the COM team's commentary team name was not updated for only the match room owner.
<Become a Legend>
・When playing in extra time of the Internationals and scoring or assisting, the stats are counted in rankings but not Career Records.
<Master League>
・When you check the Game Plan of other players, when a goalkeeper of another player is absent due to injury, you would not be able to exit the Game Plan.
・A substitute player with a Team Role that is effective towards Team Spirit enters the match but Team Spirit was not affected.
・The description of the Team Role [Maestro] was inaccurate.
・When a manager is transferred, the manager carried over their budget from their previously coached team.
<myClub>
・The formation and tactics for some managers were incorrect after the Live Update was applied.
・The formation 4-1-4-1 was displayed incorrectly when compared to the Game Plan in the Squad Management window.
・When displaying a comparison window of squad players and reserves, followed by selecting [Back] to close the window, the cursor is located at the left top of reserves.
・The message displayed when participating in myClub competitions with a team consisting of less than 18 players was difficult to understand.
<Edit>
・The edited hairstyle of certain players appeared incorrectly after Data Pack 2.0 was applied.
* Minor adjustments have been made to a variety of modes to improve the general gaming experience.