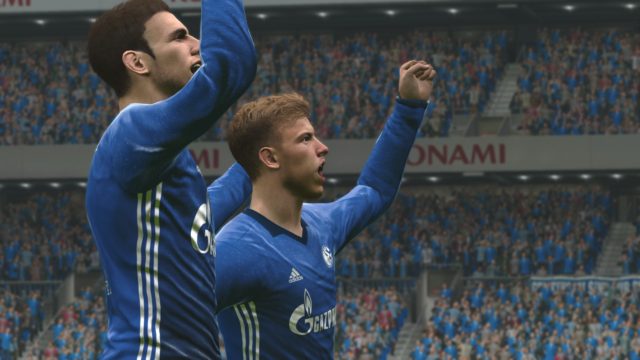 Strength
Description
Maximise Potential
Tips for opponents
Höwedes, Badstuber and Naldo are very solid defenders with some technique for build up play
Use them in your build up plays. Badstuber can play precise deep passes too.
Manmark one of them with your CB
Huntelaar is the Star Striker of the time. He can score from outside the box and also from dificult positions
Play manual passes or crosses next to him to create space for his huge finish
Cover him close, aggressive and physical. He has not that balance.
You have lots of utility players like Embolo, Choupo Moting, Konoplyanka or all wingbacks
Use theese players and swap your tactics from time to time
Always be aware of Schalke's formation
Weaknesses
Description
Minimize Risk
Tips for opponents
Most players do not have more Stamina then 79
Avoid an exchange of blows and take over control of the game. Substitute players between 65-75th Minute.
Let Schalke run a lot.
Formation and Tactics
Theese tactics have nothing to do with Schalke's real tactics. Theese tactics are just based on the PES2017 ingame values of the team. The faces of Caligiuri, Badstuber and Burgstaller will be added with Datapack 4.0. Every tactic fits to the autors playstyle. If it does not fit to yours, try to change your playstyle or change the instructions.
As you can see Meyer and Geis will build the Mid axis of Schalke's game. Konoplyanka has two Options. He can try to come along the wing or if you will cut inside he will automatically create space for the Left Back.
Defensive Formation



Schalke's former coach Huub Stevens said once: "The zero must stay" ("Die Null muss stehen). This is the formation to manage this. When you are out of Possession all players will drop behind the center line. If you want you can activate the advanced tactics "Swarm the box" and Deep defensive line. But it is not necessary. When you get the Ball then sent Huntelaar or his substitute deep into the opponents half. Hug the Touchline will help you to dominate on the wings and waste a lot of time.
Offensive Formation



If Schalke needs one more goal this is the formation you will select. The Defenders will be able to stop a counter attack one or two times but you have to play very patient. This is a Do-or-die-Formation for the final minutes.