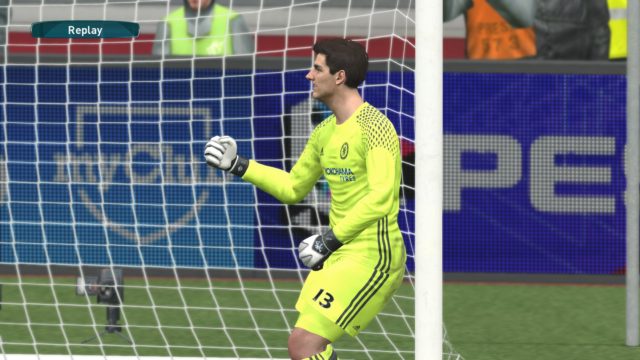 One of the most important positions in football is the goalkeeper. In Pes you usually control the goalkeeper when he is in posession. But you can also control him when your opponent has the ball. In this tutorial we will show you what is possible by controlling him.
goalkeeper in posession
A(XBOX)/X(PS4) + Left stick direction Throw the ball to a teammate
A(XBOX)/X(PS4)x2 fake throw
RB(XBOX)/R1(PS4) x 2 Drop the ball to his feet. Now the GK plays like a field player.
B (XBOX)/CIRCLE(PS4) Punt to a teammate
L2 + B (XBOX)/CIRCLE(PS4) Manual Punt (this is far longer then the normal punt)
Y(XBOX)/TRIANGLE(PS4) throw into the run of a teammate.
goalkeeper not in posession
Y(XBOX)/TRIANGLE(PS4) Goalkeeper runs out of the goal to either catch a cross or to close the ankle.
L1/LB + R3 switch cursor to the goalkepper
direct goalkeeper controls (cursor on the goalkeeper)
A(XBOX)/X(PS4) adjust position of the GK
A(XBOX)/X(PS4) + direction forward GK runs out of goal and closes the ankle
X(XBOX)/SQUARE GK jumps for the ball
A(XBOX)/X(PS4) x 2 GK tackles the striker or he is jumping if the striker shoots
How to profit from manually controlling the GK.
In some situations in which you are really sure that the striker usually will succeed you can try to deny that goal.
If the striker has the ball on his right foot hold A and do one step into your left side. When the striker is shooting now to his right corner of the goal the chance to save is highly increased.