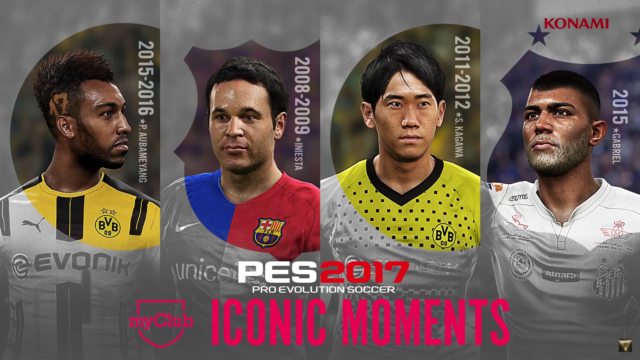 Konami brought the Iconic moments agent to myclub which contains 4 ambassador players with slightly changed stats which should show their performance in their best years.
apart from theese 4 players the agent consists of 234 other players from teams of the Serie A, Liga BBVA and the 3 German teams.
Personally we think noone will go on hunting theese players, because it is not worth for some changed stats.
If you have the normal version of that player too you cannot set up both in a squad.

New players participate in myClub!

The PES Ambassadors Andrés Iniesta, Pierre-Emerick Aubameyang, Shinji Kagawa and Gabriel 'Gabigol' Barbosa are coming to PES 2017 with special features!

This celebratory campaign will be held in myClub mode.

・Special Agent
・VS COM Challenge Cup

■Period
16/03/2017 08:00 (UTC) – 23/03/2017 04:00 (UTC)
*Exact times may be affected by maintenance.
■Special Agent: Iconic Moments
4 players who have been specially selected as PES Ambassadors will be on the list. They are [★INIESTA], [★P. AUBAMEYANG], [★S. KAGAWA] and [★GABRIEL], and they come with different abilities to normal!
In addition, players who belong to the Italian League, Spanish League or the 3 German teams (BORUSSIA DORTMUND, BAYER 04 LEVERKUSEN and FC SCHALKE 04), play in the same position (CF/ST/OMF/CMF) as the 4 PES Ambassadors, and also have an overall rating of 75 or more will be on the list!
*myClub menu [Contract] – [Special Agent], press [List of Targets] button in the Special Agent list to confirm the available players list in each agent.
■VS COM Challenge Cup
You can obtain a Special Agent [Iconic Moments] as an initial reward, but only if you beat the teams that the PES Ambassadors play for!

Konami