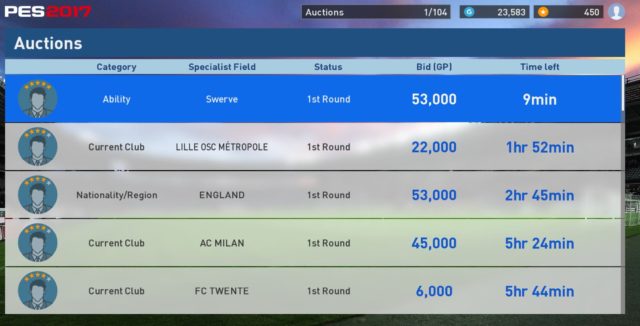 In the auction house you can filter for different scouts by quality and different attributes?
The quality is very important so please read the scouting tutorial too.
How does an auction work?
An auction consists of two phases:
1. First Round
2. Last Round
What does happen in the First Round?
In the first round you can only win the auction if you are the only one who places a bid.
Everyone who places a bid is allowed to place a bid in the last round.
You can see the highest bid.
Bidding a second time makes almost no sense. You can do it if you want to start as the highest bidder in the last round. If someone makes a higher bid you get your money back. That information can be very useful when you have a special bidding strategy.
What does happen in the Last Round?
Only bidders who made a bid in the first round are allowed to bid ONCE during the Last Round.
All bids are hidden for the other bidders. The number you see behind the agent is the highest bid of the First Round.
If every bidder of the first round placed his bid for the last round the auction will end. If one or more bidder did not place a bid in the last round you will have to wait until the time will run out.
How can I sell my agents in the auction house?
You cannot sell your agents by the auction house.