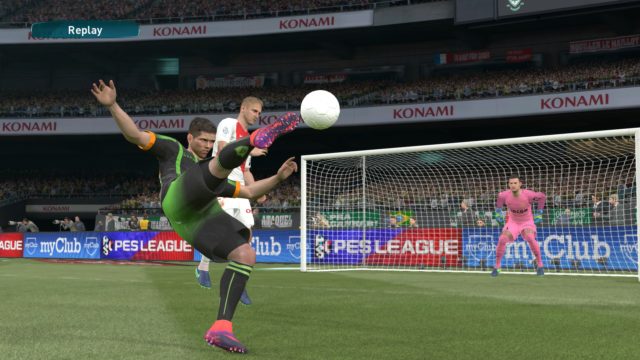 Volleys and bicycle kicks are harder to save for a goalkeeper then just headers. Especially when the distance to the goal is larger then 10 metres. In Pes players often decide to perform a header instead of trying to play a volley shot.
To force your player to take the ball as a volley shot or as a spectacular acrobatic finishing you have to press the shoot button twice before receiving the ball.
If you perform a bycicle kick your player should have the acrobatic finishing card. Else the likelihood to fail is very high.
In PES 2017 crosses come very accurate. the likelyhood of getting an overhead kick animation is very rare. To increase the chance for this there are three techniques.
1) supercancel with the receiver.
If the cross is on its way you have to move your receiver out of position and then doubletab the shoot button. the disadvantage of this technique is that usually the defence is better positioned and will simply clear the ball.
2) manual crossing.
Play the cross with pressing L2 to an area which your attacker can reach more likely than his marking defender. Doubletab the shooting button and enjoy. This technique needs some training
3) do it yourself
When receiving a cross or better an early cross just press R3 and nothing else. Your player will stop the ball with his chest and lift it up a bit. Now press the shooting button to perform an acrobatic kick.